Our La Perla Sterling Ascot Tie in London, England
London, England – Everything you've ever heard about the clamy weather in London, discard it! At this time in early July it's hot, it's humid, and it's crowded. Trust me when I say that I'm just as confused as a the 8.7 million residents of London. No matter the weather, the Sterling Ascots Euro Tour takes us to London in search of more fabric for ascot ties. Not only are we here to buy fabric for ascot ties, we have decided to shoot the first Sterling Ascot ever made: our La Perla Sterling Ascot tie.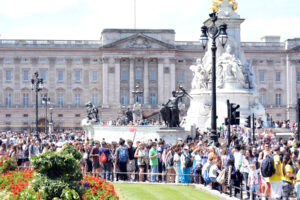 Our time in London starts at "the Queen's" residence (Buckingham Palace) in hopes to catch the changing of the guard. The heat in London is no joke and the murmurs through the crowd suggest the same. One man literally says "I'm not as miserable as I usually am, and I'm not sure why." That one gentleman has the sun to thank for his change in attitude. London, England is a place where ascot ties were very popular at a time in the not too distant past. Still to this day, ascot ties are accepted with open arms, both casually and formally.  As I mark out the routes and landmarks we are looking to visit through London, a man on horse back shouts from the street…the changing of the gaurd ceremony has started.
The ceremony is about an hour or so and is a must see if you're a tourist in town. It consists of a number of formation marches and a number of musical demonstrations from the gaurds. As the crowd disperses, we make our way down Birdcage Way (formerly Birdcage Alley) toward the River Thames. As we arrive at the Westminster Bridge, we are greeted by Big Ben and Westminster Abbey. This gives us a one of a kind backdrop to showcase our La Perla Sterling Ascot tie.
Our La Perla Ascot tie is one to admire. Reminding you of all the great things about Spring, the flowers are vibrant and the colors are warm. Yes we understand that this description does not compliment the average British weather but on this day, you may beg to differ. Trying to get a clear shot with Big Ben in the background proves to be tough as many people line up along the bridge to get their own shots or to simply admire the unusual color of the River Thames. However, in due time, we are able to take more than enough shots and are able to salvage a few clear ones for this post.
This ascot tie is like none other. With the fabric originating in England west of London by way of McCalls Patterns and into my grandmother's basement, the fabric boasts a wide range of colorful flowers and a unique mix of blue as the primary color in the background. The fabric is a rayon and cotton mix which we rarely use. If you were lucky enough to get your hands on this ascot, congratulations, you have a Sterling Signature original. Our second round of production on this ascot will arrive in 2017 and it will come in silk moving forward.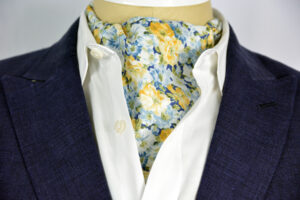 Our La Perla Ascot tie is one that would be ideal for any outdoor event. Wine tastings in Sanoma Valley, the Kentucky Derby, the Dubai World Cup ($10 million horse race), lake side/city street side outdoor brunches, or the Veuve Clicquot Polo Classic are all events where this ascot tie would flourish. As long as there is plenty of sun, you're good to go.
After a couple of decent shots, we decided to continue down the Westminster Bridge. Of course there is more to London, but for now we'll just leave it here as the conclusion to part one. In part two, look out for part 1 of our Sterling Ascots Euro Tour Video.
-J. Sterling