Sterling Ascots in Miami pt. 1
Miami, FL – The ascot tie culture in America is not as evident as that of the bow tie or dress tie culture. In my estimation, more than 50 percent of Americans don't know what ascot ties are if you refer to them by name. Ascots are easily mistaken as scarves in most instances, especially when you're given a compliment…i.e. "That's a really nice scarf you're wearing, is this a new trend?" Just remember, if you wear your ascot ties correctly, you're always going to receive attention. Whether the attention is good or bad just remember that ascot ties aren't for everyone. However, in a place like Miami, anything goes especially the advancement of ascot culture.
Miami is one of those places I will never say no to. Among people who travel a lot, they frown upon Miami because of it's cliche'ness (if you'll allow me to add a new word to Webster's). To a lot of people, Miami is that destination which is over used in the travel language among Americans, especially in regards to South Beach. However, if you're someone who likes to do their own thing, you wear ascots and you utilize Miami for your own agenda. Fine dining, lounging on calm beaches, crystal clear waters, great photo backdrops for your ascots, partying in some of Americas finest clubs, and plenty of rest with an occasional alcoholic beverage. I would like to introduce you to my Miami.
Regardless of whether you fly into Palm Beach (PBI), Fort Lauderdale (FLL), or Miami International (MIA), you will have no problem getting to Brickell by rental car. Brickell is one of Miami's best kept secrets that most visitors are not aware of. Only a short 10 minute drive over the Causeway from South Beach, Brickell boasts beautiful condos that spring up daily; plenty of bars; restaurants; grocery stores; and the option of peace. Unlike South Beach, the lodging found in Brickell provides a large variety of places to stay for a fraction of the price while providing more space.  We highly recommend AirBnB for a nice skyline condo before possibly looking into a hotel.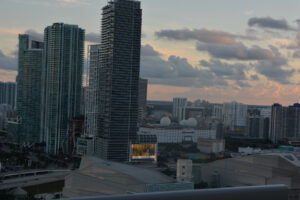 Now that you've checked in, I'm sure you are hungry and may want to grab a bite to eat. Our first recommendation is Joe's Stone Crab on South Beach. The last time Joe's was opened during the summer was 2014 when we debut the company with just four Sterling Ascots and we were merely a made to order company. As of 2015 the restaurant is only open during Stone Crab season (roughly October 15 to May 15). They do this to make sure they only offer their customers fresh stone crab. Stone crab is always served chill but if you need something warm and you're not a fan of seafood, try their fried chicken and grab a side of their lobster mac n' cheese. For dessert finish it off with a Jack Daniel's bread pudding, you won't regret it. Although the dress code is smart casual, after hearing the host is dressed in a tuxedo, I took it upon myself to wear an ascot.
If you're not a seafood person, swing over to Prime 112 Steakhouse. Make sure you have a reservation at least two weeks in advance or else be prepared to wait 2 hours for a table. While you wait, go by the bar and have some complimentary bacon. Prime 112 is well known for serving bacon at the bar as if it were beer nuts. Once you've had a couple of $20 cocktails, have a seat and be sure to order the cowboy ribeye cooked to your liking. The sides are family style so you can never go wrong with the size if it's for two. I always spring for the spinach and mashed potatoes. If you're on vacation, you can never go wrong with greens and a little starch. Ascots aren't mandatory here, but if you wear one, we promise you won't feel out of place.
So you've filled your stomach, had a couple of drinks, it's the weekend and the night is young…swing 40 blocks north to the Fountain Blu Hotel. Here you will find the world famous Club Liv. Club Liv is a super club compared to the other clubs found in cities on the east coast. Club Liv boasts 2 levels, plenty of good music, expensive drinks, all the women in tight dresses that you can handle, and a vibe you won't forget. Depending on the night men can expect to pay a minimum of $60 to get in via general admission. If the men to women ratio in you group is not equal/women heavy, it may be bottle service or bust…you have been warned. Club Liv is a place where you will never feel under dressed. Each time I've gone, I've worn an ascot and it's gotten me free alcohol and has started plenty ofconversations…you'll be shaking plenty of hands so if you're a germophobe bring hand sanitizer.
The next morning arrives and you are hung over…it's okay. Don't spend your day in the room crying over a headache. Hit the streets and go get yourself a breakfast sandwich and a water to go. Once you're finished eating, get your cooler together, hop in you car and hit the 5th street parking garage on South beach. This garage is a cheap parking garage 1 block from the beach. The price is roughly $1 to $1.50 per hour. Enter the beach and go to the snack stand, here you will be able to purchase a lounge chair for $15, an umbrella for $15, or a cabana for $20. Lay out by the water and let the sounds of the crashing waves sooth your headache. Once you're up to it, take a dip in some of the warmest ocean water America has to offer. If you need a little lunch, run across the street to Wet Willies and order a snack. Don't look at the liquor, it might make your headache worse. Ascots not required.
This is just a small touch of my Miami. Miami part two will touch on our shoots of the Shinjuku Sterling Ascot, the London Sterling Ascot (not yet released), and the Luxury Lavender Sterling Ascot. These tips here are just a few suggestions to get you started. Miami has so much more to offer, it's up to you to cultivateyour own tailored experience.
– J. Sterling