The Lilac Leaf Ascot in Cannes, France
CANNES, FRANCE ~ Home to everything you'll ever want in life…as long as you can afford it. The summer sun is hot, the yachts are out at Le Vieux Port, and I already can't wait to return. Cannes is small, yet big enough to fit a plethora of millionaires, billionaires, tourists, and the everyday workforce that populate the province. After receiving 3 different pronunciations of the word "Cannes," I decided that saying the word "ascot" backwards would be easier. After making my pronunciation decision, it hits me…the Palais des Festivals (the Cannes Film Festival Building). I turn to my right in a Drake-like monotone excitement (yes monotone excitement), "Q we're in Cannes."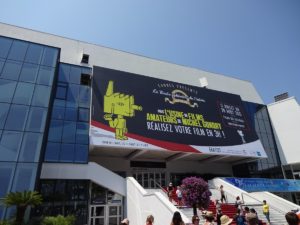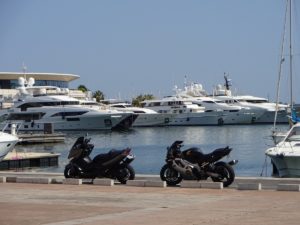 Cannes wasn't just another stop on the Sterling Ascots Euro Tour, it was almost THE STOP. Cannes is the stop that makes you call home and tell your family and friends and bid them adieu as you start your new life. Cannes has the ability to make you discard your passport and make you take a shot at panhandling for the rest of your days. With its sun kissed beaches, opulent surroundings, and fabulous people Cannes will make you look in the mirror and ask yourself where you went wrong in life. Indeed, Cannes was almost the stop.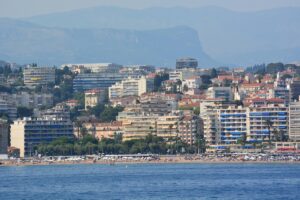 I know what you're thinking…will there be any mention of Sterling Ascots? We'll get there but first a tour.
As I hitch a ride on an open air trolley we start off at the Palais des Festivals. The driver signals to everyone to put on their headphones and find the language that we are most familiar with. We take off down Boulevard de la Croisette past every high end designer you can think of. On the right is the beautiful pristine Mediterranean Sea to the left are all older casinos/hotel buildings you've probably seen in old movies or in your favorite actor's snapchat/Instagram. The JW Marriott Cannes, the Intercontinental Carlton Cannes, past the Heel Club and some more small sandy beaches. We take a small incline climb to Notre-Dame d'Esperance and back around to where we first started.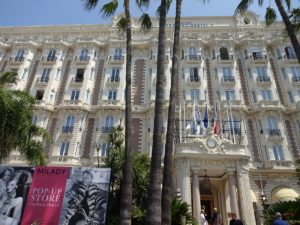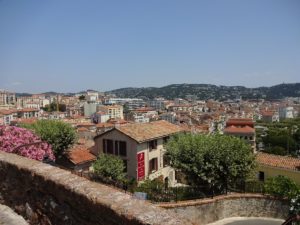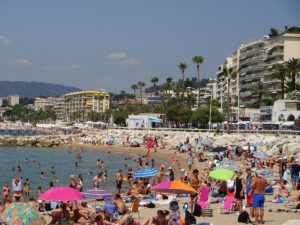 As we exit the trolley, I thought it was time to shoot…but Cannes seduced me to a private beach club by the name of CBeach. We are met by a waiter who offered us a couple of 3rd row lounge chairs on the beach for a small fee and a food menu. Over-priced food has never gone down with such relaxing ease as it did on that day.  I lit my Cuban Cohiba and took refuge in the pristine Mediterranean.
What about the ascots, aren't we here for the ascots??? True indeed.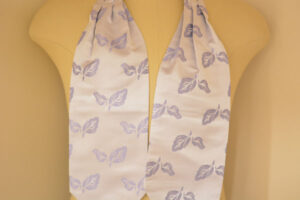 Less than a km off the coast of Cannes a beautiful makeshift gallery was erected. After a glass or two of wine, I begin to eye some of the paintings. My gorgeous photographer, Q, begins to shoot in natural lighting with a 50mm prime lens. With the 1st shot, the Lilac Leaf Sterling Ascot makes its debut. Made of 100% silk and a touch of love from yours truly, the Lilac Leaf makes a subtle statement with a signature double breasted blazer fit for the Mediterranean Sea. Looking at the ascot, it's easy to see how it got its name.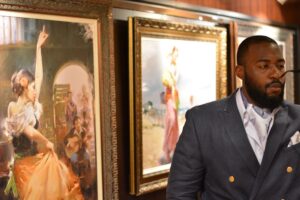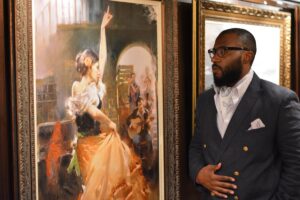 I turn the corner and a painting of a woman catches my eye. Instructions are shouted at me: "don't move" followed by rapid clicking. I make an about face and I see an odd statue of liberty painting, one shot was taken at that position. That one shot would make its way from Cannes, France to page 96 of Ebony Magazine's February 2016. "Cannes, where the dream is free but the grind is sold separately."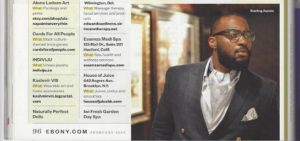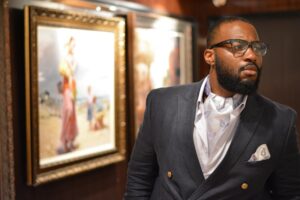 -J. Sterling